Our Montessori teachers are all certified by an accredited Montessori training program and our assistants have a depth of experience and great love for children.
Mr. Daniel Clifford

Mr. Dan has been at THE SPRINGS since 2008. He quickly got put to work as a jack of all trades, volunteering his time assisting in the classrooms,  managing the school office, and taking over responsibility for all heavy lifting! Despite being a career Electrical Engineer, Mr. Dan fell in love with working with children and immediately jumped into the world of Montessori Education!
Mr. Dan completed his Electrical Engineering Masters degree at The George Washington University, while simultaneously completing his Montessori Teacher's Certification at the Northern Virginia Montessori Institute. He taught in the classroom before moving into a full time administrative role. Mr. Dan is currently pursuing another Masters degree in Montessori Education through Xavier University.
Mr. Dan enjoys bringing a male perspective to our mostly female staff and helping prepare the next generation leaders and innovators! Having grown up in South Jersey, Mr. Dan is also a die-hard Philadelphia sports fan. He enjoys soccer, reading, spending time with his children (Maeve, Nora, Michael) and taking advantage of his wife's love of cooking!
---
Ms. Ashley
Lead Montessori Teacher, Toddler House

Ms. Ashley has joined the faculty at THE WOODS in 2019 after having been a Teacher at our sister school, THE SPRINGS, since January 2012. She joined the school staff as a floating assistant helping out in all of the classrooms. Soon after, she became a Assistant Teacher in the Children's House Class. After working for two years in the Children's House, she decided to embark on a new chapter when the opportunity to work in the toddler program opening became available in the fall of 2014.
Prior to working at THE WOODS, Ms. Ashley attended Morgan State University in Baltimore, Maryland. Ms. Ashley was born in Dale City, Virginia. She has a daughter Lilliana who attends THE WOODS. She graduated from Garfield Senior High School in Woodbridge, Virginia. When Ms. Ashley is not working at THE WOODS she likes to bake desserts with her daughter Lilliana, go to local museums and take road trips to see family and friends outside of Virginia. Her favorite dessert to make is her famous banana pudding, which she often makes during the holidays. Outside of traveling and baking, Ms. Ashley is also a licensed cosmetologist. She is very excited to be teaching at THE WOODS and hopes to positively influence all of her students to love learning.  Ms. Ashley completed her Montessori Infant and Toddler Certification at the Montgomery Montessori Institute.
---
Ms. Catherine
Ms. Catherine is currently pursuing an Associate's in Business Administration from NOVA Community college.  Upon completion of her Associate's, she plans to transfer to George Mason to complete her Bachelor's in Business Administration.  When she is not studying or working, she enjoys spending quality time with her brother and sister (Ms. Erika) and her dogs. One thing she really enjoys most about working with the children is how they show their love and appreciation first thing in the morning. Being a part of their everyday development is truly a gift.
---
Ms. Elyssa
Lead Montessori Teacher, Toddler House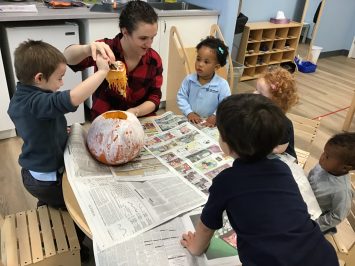 Ms. Elyssa has been teaching infants and toddlers in a Montessori classroom for the past eight years. She loves teaching in a Montessori classroom because the environment fosters independence in the child, allows each child to grow as an individual, and emphasizes the importance of community. She's lived in Canada, Rhode Island, and DC, but now she calls Stafford, Virginia home. Her time outside of school is filled with renovating her house with her husband, spending as much time as possible painting and making art prints.
---
Ms. Khin
Lead Montessori Teacher, Children's House

Ms. Khin joined THE WOODS in January 2019.  She is from Burma, current day Myanmar, in Southern Asia.  When deciding on a career, both Ms. Khin and her sister became teachers just like their mom.  In 2004, Ms. Khin graduated from the University of Yangon in Burma and began teaching.  In 2008, Ms. Khin and her husband moved to the United States.  She was introduced to the Montessori philosophy in 2013 and decided to pursue a career in Montessori education.  Ms. Khin has two daughters, and when not at school, Ms. Khin enjoys traveling, hiking, and visiting the beach (every summer!) with her family.
.
---
Ms. Nima
Lead Montessori Teacher, Children's House
I was born in India and moved to USA in 2002. I have a Bachelor's degree in English from Calcutta University in India. I received my Primary Montessori teaching certificate from American Montessori Society (AMS) in 2011. I have taught as a lead teacher in Primary Montessori classrooms for more than 10 years, including 9 years in Omaha, Nebraska and one year at Woods Montessori. I have mentored classroom assistants and Montessori certified teachers. I am excited to start the new school year and I am looking forward to getting to know my students and their families.
---
Mrs. Maureen Clifford
Executive Director
Ms. Maureen's journey began at THE SPRINGS began in 1996 when she was only 14! Maureen began volunteering on days lacrosse practice was canceled (a.k.a. rainy days when the children were cooped up inside). Ms. Maureen fell in love with children. She continued to work at THE SPRINGS throughout high school and every summer when she was home from college. While she enjoyed working at THE SPRINGS immensely, Ms. Maureen never imagined she would make that her ultimate career path. After graduating from the University of Pennsylvania, Ms. Maureen worked for Booz Allen Hamilton as a small business communications and outreach consultant before deciding that she missed the children too much.
Thankfully, THE SPRINGS was in need of an Assistant Director, and Ms. Maureen was invited back working both in the office and in the classroom. Ultimately, she fell in love with the Montessori Method, completed her Early Childhood Montessori Teacher Certification in 2005 and became Head of School in 2008.  She recently added a Montessori Infant and Toddler Certification to her list of credentials.
Ms. Maureen has recently scaled back to a part-time role to focus on family and pursue opportunities in the greater Montessori community.  Her role at THE WOODS is to support staff development and mentorship, parent education, improving special needs resources and provide business support.   Ms. Maureen's favorite pastime is spending time with her family: Mr. Dan, her daughter's Maeve and Nora, and her son Michael who also attends The Woods soon. Ms. Maureen loves reading, history, creative writing, cooking and the Philadelphia Phillies!